---
The best things in life are never cheap. This is the list of the 7 most expensive things of the world which are not only amazing in their features but also in their price tags.
World's Most Expensive Watch
201 Carat Chopard
The world's most expensive watch costs an unbelievable $25 Million. The world's most expensive watch is the 201-carat chopard. It is decorated with 11 carat white diamond, 15 carat pink diamond and 12 carat blue diamond. In addition to this, it is surrounded by 163 carat diamond. These are set in a bracelet encrusted with clusters of white pear shaped diamonds which are arranged in a flowery design. The watch has spring mechanism which when pressed opens the three heart shaped diamonds at the top much like the petals open in the morning.
World's Most Expensive House
Ambani House, India
Have you ever dreamed about the world's most expensive house? Well, the world's most expensive house is in Mumbai, India. It is located at the Altamount road in the heart of Mumbai. The house will provide beautiful views of the Arabian sea and Mumbai's gorgeous skyline.
The world's most expensive house costs $2 billion and is owned by Mukesh Ambani, the head of the giant Reliance Industries. The house is 525ft tall and covers an area of 400,000 square feet. It consists of 27 floors featuring a health club, movie theaters and three helipads. Six floors of this giant building are reserved for parking Mukesh Ambani's 168 exotic cars.
World's Most Expensive Burger
Burger King, the hamburger giant has produced the world's most expensive burger. This world's most expensive burger named simply as "The Burger", costs about $186 (£95). It is only available at a West London branch of the Burger King.The Burger is made from Wagyu Beef, decked with white truffles and onion tempura, prepared in Cristal Champagne and Spain's finest Peta Nagra Ham and presented in an Iranian saffron bun.
Fleur Burger 5000
Another world's most expensive burger is Fleur Burger 5000 created by the celebrated chef Hubert Keller which costs a jaw dropping $5000. The Fleur Burger 5000 is made with Kobe beef, topped with foie gras, truffle sauce and black truffle shavings, which is served on a brioche bun. But the $5000 treat also includes a bottle of Chateau Petrus 1995 which itself costs $5300. A treat specially for you if you possess an expensive taste.
World's Most Expensive Car
Bugati Royale Kellner Coupe
The 1931 Bugati Royale Kellner Coupe is the world's most expensive car. Better known as the Royale, it was bought at an auction in 1987 for $87,00,000. The Royale, the world's most expensive car, is one of the largest and rarest cars in the world. Compared to a modern Rolce Royce Phantom, the Royale is 20% larger and 25% heavier. It was designed by Ettore Bugati.
Bugati Veron Super Sports
The world's most expensive modern car is the Bugatti Veron Super Sports. Priced at about 2,400,00, this is the most expensive street legal car in the market. The Bugati Veron has a top speed of 267kmph and can reach 0-60 in just 2.5 seconds.
World's Most Expensive Dog
Tibetan Mastiff
The world's most expensive dog ever sold was a red Tibetan Mastiff named "Bing Splash" or "Hong Dong" in Chinese. It was bought by Chinese multi-millionaire Coal Baron in March 2011. The dog is 11 months old and 3ft tall and weighs more than 180 pounds.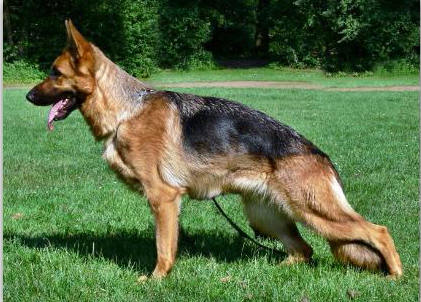 German Sheppard
The world's most expensive dog breed is the German Sheppard (Alsation) which can cost from $3000-$24,000. The German Sheppard is a very versatile dog showing outstanding abilities to be trained. A dog training institute claims to train the best rescue dog in the world and sells their German Sheppard for an awesome $24,000.
World's Most Expensive Perfume
Clive Christian's Imperial Majesty
A perfume is part of ones personality. A great perfume makes its own impression. But have you ever wondered which is the most expensive perfume in the world? Well, the world's most expensive perfume is the Clive Christian's Imperial Majesty which costs a jaw dropping $215,000 per bottle. The Imperial Majesty has a unique scent which is a beautiful mixture of jasmine, cardamom, carnation, lemon, bergamot and benzoin but this incredibly high price comes from its diamond crusted bottle. The bottle comes with a dazzling white diamond embedded that could be worth alone about $215,000. Due to its impressive price, only 20 bottles of Clive Christian's Imperial Majesty were made, 10 for men and 10 for women.
World's Most Expensive Personal Computer
What are your plans if you have a Million Dollars? Buy a luxurious house or a sports car or you can also think about going on a world tour. Now you can also dream about owning a Million Dollar Laptop.
UK based luxury goods creator Luvaglio has introduced the world's first million dollar laptop. The laptop is embedded with a 17" LED display specially designed for a clearer and brighter image. It is also loaded with a 128GB hard drive and a Blu-Ray drive. Your million dollar surprise will also come with a very rare colored diamond that is used as the power button and also acts for security identification.
According to Luvaglio, "the brand is committed to re-defining luxury in a few sectors, technology being one of them".
World's Most Expensive Pen
Aurora Diamante
The Aurora Diamante is the most expensive pen in the world. Costing just less than $1.5 Million ($1,470,600 to be precise), the Aurora Diamante contains 30 carats of De Beer diamonds embedded on a solid platinum barrel and a two-tone, rhodium treated 18 carat white gold nib. Only one is for sale each year. Aurora Pens claims that it is the only 30 carat pen in the world.
​